September 29, 2020 5 pm Pacific
Join us for this special Big Leap Bridge Q&A Panel with three dynamic couples who will answer your questions about how you can create a Conscious Loving relationship through embodying Hendricks tools and practices. Think of this as an appetizer for the Hendricks brand new online Couples Course starting on October 14th at 5 pm Pacific. 
What commitments and agreements support joyful relationships.

Our favorite tools for conscious communication.

How to create lasting love in your life.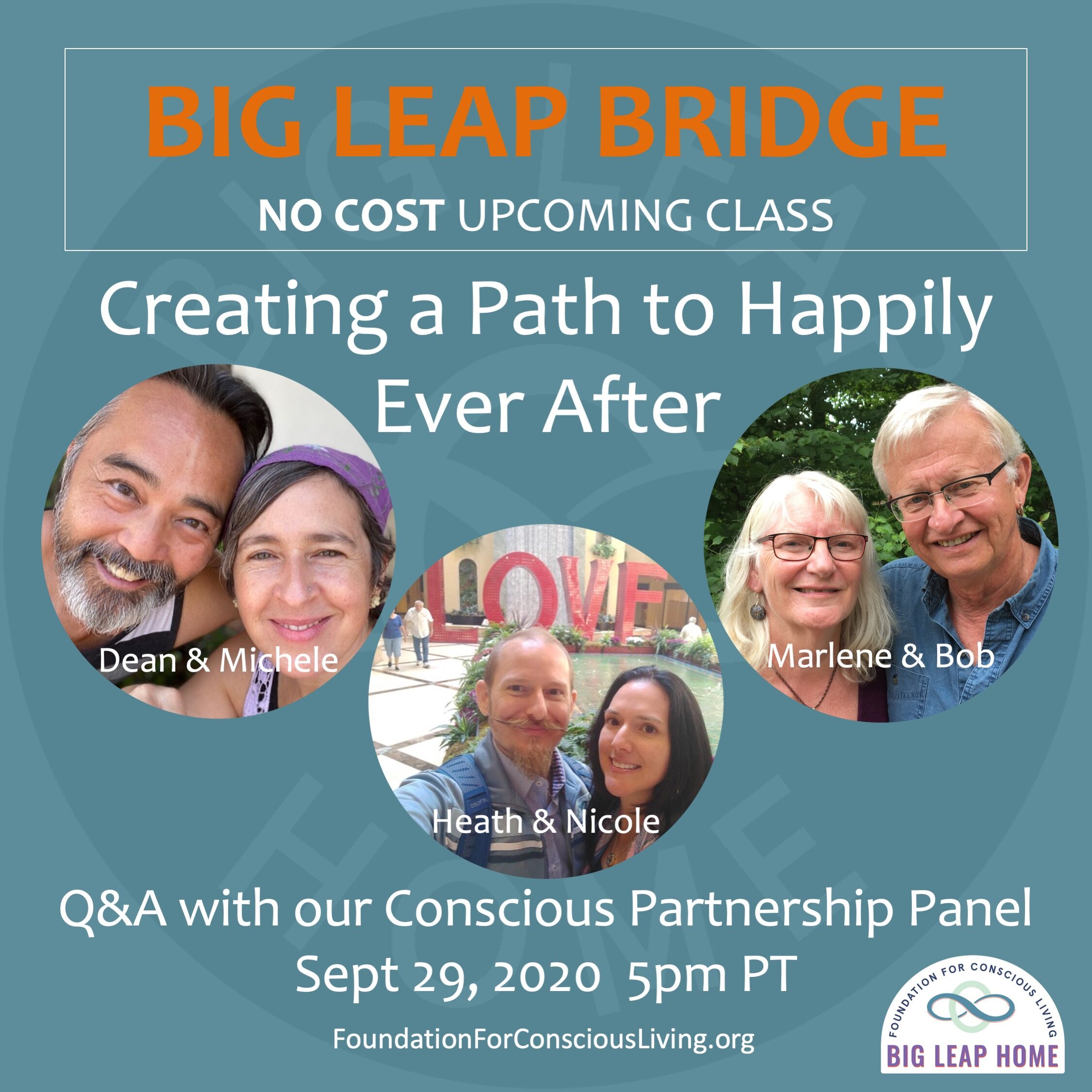 Our Conscious Partnership Panel
Marlene & Bob Neufeld
info@marleneandbob.com
www.marleneandbob.com
Marlene and Bob Neufeld are a vibrant couple who help couples learn life-changing relationship skills and create closer loving relationships. They have been married since 1970 and have been collaborating in a two-on-two counseling practice, seminars, workshops and retreats since 2003. They are graduates of the Hendricks Institute and the Foundation for Conscious Living and Loving (2004). They have been participating in the Optimal Sexual Experiences Research Team since 2015. Everything they share has been personally "bedroom-tested".
Heath & Nicole Reed
Co-Founders of Living Metta
Certified Big Leap Coaches
Graduates, Hendricks Leadership and Transformation Program
livingmetta.com
info@heathandnicole.com
Heath and Nicole Reed are cosmic couple who are passionate about inspiring connection through loving kindness. Together they founded their business Living Metta to share simple and friendly practices to enhance collaboration, positivity, and a felt sense of purpose for individuals, groups and communities. Living from their shared commitment to loving kindness, Heath and Nicole integrate insights from their Big Leap Coaching, plus their 24-year relationship, and their 20-year business of team-teaching massage therapists, yoga and qigong practitioners, and all those willing to befriend their body. Join the Reeds' as we practice potent life-hacks and strategies that exponentiate happiness and create maximum positive impact in every connection.
Michele & Dean Yasuda
www.MicheleandDean.com
Thrive@MicheleandDean.com
805-791-5095
Michele and Dean are certified Big Leap Coaches and graduates of the Hendricks Institute Leadership and Transformation Program. They are the Co-Founders of Michele and Dean, LLC, a company dedicated to Awakening Aliveness by inspiring all of us to harmonize with our purpose so we can fully engage in our lives. They offer individual and relationship coaching and programs which are designed to support you in savoring your relationships and your purpose.
Frequently Asked Questions
Interested in scheduling a class for your group or community?
Contact us and we'll put you in touch with one of our coaches.