September 21, 2022 6:00 PM Pacific
Most of us were trained, at least at some level, to believe that life is hard and to get ahead we needed to buckle down and work hard.  We were trained out of our natural capacities to move, play, wonder and discover new things in spacious timing.   The more I live and learn, the more I re-discover that PLAY is an imperative if I want to learn new stuff, create sustainable change, and enjoy my life.  PLAY may sometimes be childlike, but it is far from childish….in fact, science reveals that play is a required ingredient for a fulfilling life.
In this no-cost class:
learn about qualities of play that are required for healthy development

 

use play to loosen the grip of trauma patterns and open to new possibilities

discover what play is for you

get curious for how you can infuse play into your everyday activities

practice how to shift from heavy and 'stuck' to spacious and choice-full

grow your awareness for how 'play' feels in your body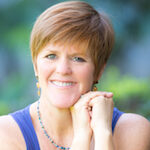 Master Coach and Game Changer
MA Applied Physiology, Master Coach
www.tallpoppyinc.com
audrey@tallpoppyinc.com
Audrey Hazekamp, M.A. is a consciousness athlete, and Master Game Changer. She engages in life as an on-going adventure for discovery and laboratory for genuine fulfillment. Audrey is a living, breathing model and inspiration for thriving beyond our familiar conditioning and uses her wisdom and exceptional skills to support others in shaking up limiting patterns and opening space for new choices, and maximal good times. Audrey founded Tall Poppy Inc. Integrative Coaching/Facilitating, and has been working in the area of health, well-being and transformation for over 25 years. In addition to coaching, Audrey also facilitates with renowned body centered facilitator/author Kathlyn Hendricks, PhD., and continues her own education in the areas of evolutionary fitness, genuine fulfillment and radical kindness.
Frequently Asked Questions
Interested in scheduling a class for your group or community?
Contact us and we'll put you in touch with one of our coaches.