A CONSCIOUS LIVING PRACTICE FOR TODAY – APRIL 10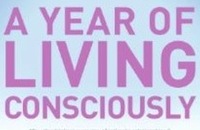 Self-command is the main elegance.
— Ralph Waldo Emerson
A FORCE-FIELD OF ENERGY
Your essence is your core, your body, and over it, as you grow, you learn to drape personas, the clothing that hides your true self. I recall, on seeing my wife, Kathlyn, for the first time, being aware of an energy that surrounded her, a powerful force-field of essence. When I looked at her more closely, I also noticed her clothing, the type that has always appealed to me most—bright colors, flowing fabrics—and I was aware that there was no persona; Kathlyn's essence and her outer self were one and the same, which is undoubtedly why I responded to her so powerfully. But for many people, there is a huge disparity between the outer persona (worker, parent, child, spouse) and the inner essence. As these people slip in and out of various personas, sometimes they experience the occasional sense of confusion and dissonance as they wonder, "Whatever happened to me? Who am I? Where did I go?" Others, having let their essence become swallowed up in the roles of life, which are worn heavily, like crosses, never even ask the fundamental questions about their existence.
A CONSCIOUS LIVING PRACTICE FOR TODAY — APRIL 10
Identify several key personas in your life. These may be roles that you play (i.e., "daughter") or they may be a collection of character traits that make up a role (i.e., "dutiful daughter"). Do not judge these roles (personas often serve a very useful purpose!); your work today is simply to get to know your various personas.
Essence has a way of growing even from humble beginnings when there is a willingness to make commitments and live authentically.
Purchase "A Year of Living Consciously" by clicking the cover below: