Learn About Integrity!
The Integrity Deck and More
Drawing from the deep, body-centered wisdom taught by Katie and Gay Hendricks in their seminars, each card in the deck communicates an effective way to shift into integrity with ourselves and others.
You can find videos that share about the integrity skills you'll find in the deck. Click below to learn more or purchase a deck.
Weekly Live Calls
with Katie Hendricks
Learn to expand your capacity to give and receive attention with Katie and our Caring Community every week at 9 am Pacific for a no-cost 15 minute live online call. Love in Action with Katie Hendricks combines two practices that will support you in moving from fear to love through presence.
Unlocking the Fear Code
and Harnessing a New Fuel Source
Fear Can Stop Us From Living A Full And Abundant Life. Almost all problems have fear locked up at the source. When you learn to shift from fear to here, you are available to enjoy aliveness, make nourishing connections, and co-create solutions rather than recycling the same adrenaline-fueled reactions. Click below to learn how to unlock the fear code.
Resources to Restore
Harmony and Connection
We offer live and recorded online classes and videos led by Katie and Gay Hendricks and our colleagues that will assist you in learning somatic practices. You will learn how to move from fear to love through presence. We share tools such as breathing, self-love, facing, and accepting that you can use right away in your daily life.
We are available
to assist you!
Our Restoring Resourcefulness Faculty offer 15-20 minute coaching sessions to assist you in coming home to yourself using our transformational tools. These proven tools and practices continue to support thousands of people worldwide. Click on the button below to schedule your no-cost session.
Big Leap Bridge
No Cost Online Classes
Join our Caring Community to learn and discover Hendricks tools with our Big Leap Coaches who are Hendrick's Leadership and Transformation Program graduates. You will have the opportunity to explore topics such as breathing, integrity, upper limits, and how to move from fear to love through presence. Click below to learn more or to register.
Living Miracles Card Deck
A Card Deck Containing Essential Wisdom from Gay Hendricks
Purchasing this new deck of cards is one way to support the Foundation for Conscious Living, as all deck sales go toward funding the Foundation.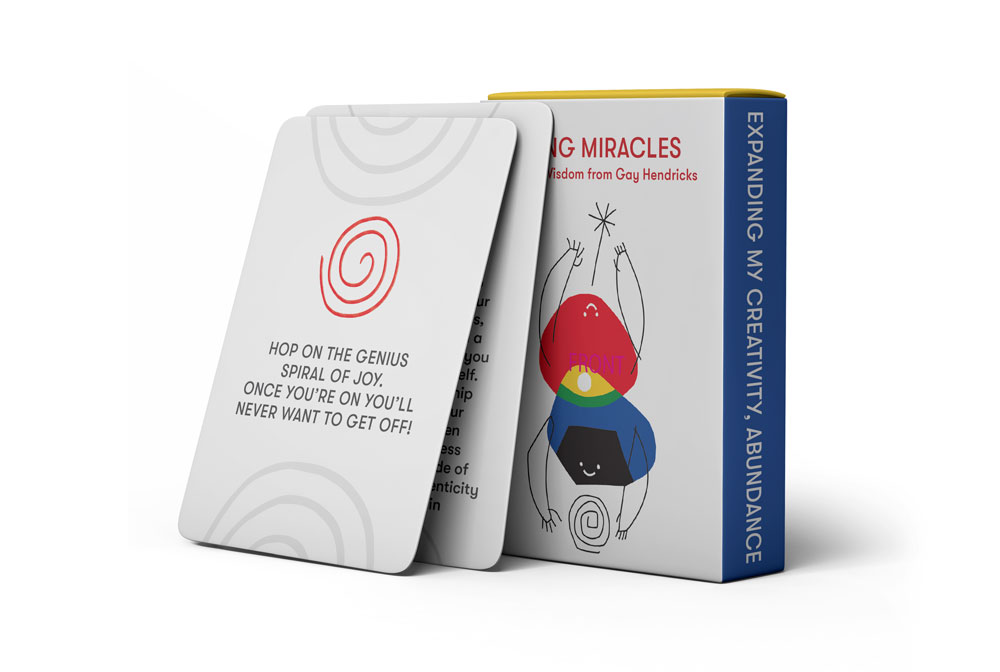 These illuminated quotes of Gay Hendricks are full of wisdom, providing bite-sized insight and inspiration in seconds. A collection of Oooh's and Ah's and O's and Hmmm's to get your self-awareness juices playfully flowing.
Stories of Transformation
By Kristina Turner Our colleague and Restoring Resourcefulness Faculty member Kristina Turner shares how she learned to improvise on the piano by spontaneously matching her feelings with her fingers. Matching is a versatile skill in our Restoring Resourcefulness Program.  For more transformational stories from Kristina, see the link to her podcast, Friendly Completions. The Power of…
Read More
As part of our commitment to a global shift in our ability to effectively move out of the fear trance and to access choice, connection and collaboration, we share articles and resources that support our learning and discovery. This article by David Rozado features scientific studies that show a correlation between the change in the…
Read More