The Big Leap Home Online Programs
The Big Leap Home Online Programs support individuals, organizations, and communities in generating agency, connection and creativity on our shared planet.
Here's a video introduction to the programs we'll be creating through 2020:
Unlocking the Fear Code
and Accessing Essence Power
Fear can stop us from living a full and abundant life
Almost all problems have fear locked up at the source. When you learn to shift from fear to here, you are available to enjoy aliveness, make nourishing connections, and co-create solutions rather than recycling the same adrenaline-fueled reactions.
Imeccable! The Integrity Deck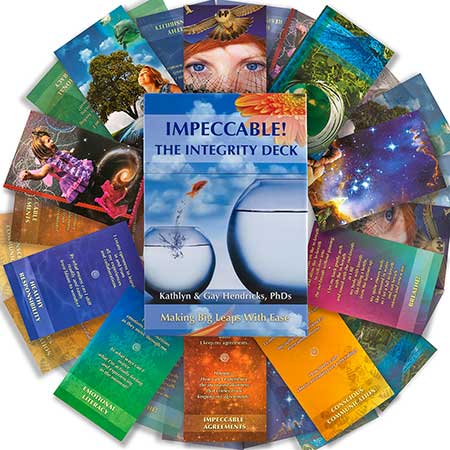 Drawing from the deep, body-centered wisdom taught by Katie and Gay Hendricks in their seminars, each card in the deck communicates an effective way to shift into embodied alignment with ourselves when we drift off-course.
Use the deck by yourself, in partnership, or in community to assist in solving problems, opening to more creativity and manifestation, and contributing with more effectiveness.
Discover and develop your own easy action steps as you practice and play with these wise, light-hearted and beautiful cards.
We're creating videos about our Integrity Deck to support your most expanded exploration of wholeness and alignment in all aspects of life. The videos explore each of the pillars of integrity and cards with examples and body intelligence doorways to deeper embodiment. Watch our introductory video then explore the rest of the series!
Stories of Transformation
Hello fear, can we be friends? Eight months ago, I sat in a workshop with my teacher Katie Hendricks and she said, "We are entering a time of a lot of uncertainty. Natural disasters will likely become a normal occurrence in our lifetime. One of the best things we can do to prepare is to…
Read More
By Teal Burrell Pumping iron to sculpt your biceps. Yoga poses to stretch and relax. Running to whittle your waistline and get fit fast. There are loads of reasons why it's smart to exercise, and most of us are familiar with the menu of options and how each can shape and benefit your body. But…
Read More