BECOME A SUPPORTER OF THE FOUNDATION FOR CONSCIOUS LIVING
The Foundation for Conscious Living is dedicated to sharing tools and resources to create a worldwide shift towards living in harmony of body, mind, and spirit. With your help, we're touching individuals and communities around the world, creating a new era of empowerment and connection. Your donations and support are vital to our success.
---
MAKE A DONATION OR BECOME A MONTHLY SUPPORTER
Many of our friends and partners choose to make recurring monthly donations to support our work around the world. We're inspired by your commitment and grateful and honored to be in partnership with you.
As a monthly supporter, you will receive regular updates on our projects and process.
---
CLICK BELOW AND MAKE A ONE TIME OR MONTHLY DONATION
Inspired? Wonderful! Contribute here:
---
Donate by Check
Please make your check payable to Foundation for Conscious Living
Mail checks to:
Foundation for Conscious Living
226 W. Ojai Ave., Suite 101, PMB 505
Ojai, CA 93023
---
Questions about donating?
Contact us at: margaret@hendricks.com
Impeccable! The Integrity Deck
Purchasing our new deck of cards is one way to support the Foundation for Conscious Living, as all deck sales go toward funding the Foundation.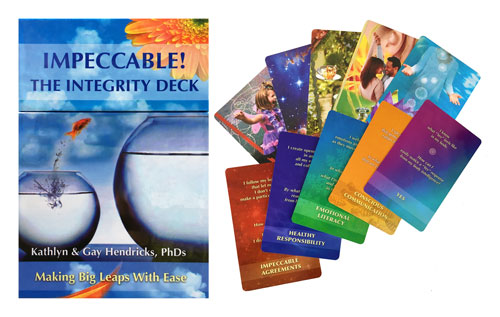 We have a beautiful new deck of cards for sale created by Katie and Leadership and Transformation Program Graduate Kirsten Jones.  The deck is called Impeccable! The Integrity Deck, and each card in it  communicates an effective way to shift into embodied alignment with ourselves again when we drift off-course.  Use the deck by yourself, in partnership, or in community to assist in solving problems, opening to more creativity and manifestation, and contributing with more effectiveness. Easily discover and develop your own easy action steps as you practice and play with these wise, light-hearted and beautiful cards.  To learn more and to order click here.