A CONSCIOUS LIVING PRACTICE FOR TODAY – APRIL 11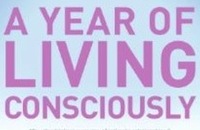 I am on the side of the unregenerate who affirm the worth of life as an end in itself, as against the saints who deny it.
— Oliver Wendell Holmes
FIGHT OR FLIGHT
You are probably familiar with the psychological theory of "fight or flight." Going back to when humans were fighting off all manner of dangerous creatures, our bodies developed two responses to threat. The first is to fight against the foe, to try to defeat it and emerge the victor, in control. The second is to flee from the enemy. In modern times, your body—and your mind—still experiences these physiological responses when there is perceived threat, and even when that threat is from emotional issues that have come to feel like the wild forest beasts that once endangered us. I propose another response, a third option: flow. Don't fight or flee; flow. In other words, tune in to the feelings and be with them until they pass. Strong feelings, like thunderstorms, have a beginning, a middle—and an end. They may gather within you ominously and rage during the worst of the storm, but they will not last indefinitely. You can ride them out.
A CONSCIOUS LIVING PRACTICE FOR TODAY — APRIL 11
Talk or think yourself through the following thoughts:
The feeling that I experience in my life that is most threatening to me is the feeling of_____. I can tell that the storm of feeling is gathering strength because my body _____ and because my thoughts _____. I can tell when I'm in the strongest part of the storm because I feel______and I_____. My body signals me that the storm is ending by_____and_____. I promise myself that I will begin to focus on the stages of my emotional storms and that I will practice the art of flowing, instead of fighting or fleeing, allowing myself to ride out the storm and to embrace my own powerful feelings.
To claim your full birthright as a human being, you need to claim your ability to be with whatever is there. Otherwise, you are a human fleeing.
Purchase "A Year of Living Consciously" by clicking the cover below: