A CONSCIOUS LIVING PRACTICE FOR TODAY – APRIL 12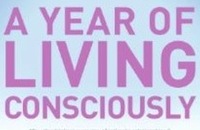 Whatsoever ye have spoken in darkness shall be heard in the light; and that which ye have spoken in the ear in closets shall be proclaimed upon the housetops.
— Luke 12:13
PERSONAS
Why, if personas cause so much pain and backward movement, would you cling to them so desperately? For a number of reasons. The persona often garners external rewards. A "good mother," for instance, is rewarded with a society that approves of her, children who respond to her, and a sense that she is being what society has asked her to be and what at least a part of her wishes to be. The dark side, however, is far more complicated: the good mother may also be rewarded by a sense of moral superiority; by her sacrifice, for instance, she is right and others are wrong. The persona may also serve as a way of avoiding frightening, overwhelming feelings, perhaps the good mothers feelings of rage at having given up her dreams, say, to become an artist, or her powerful unmet needs for solitude. Personas allow you to avoid such feelings and to corner the market on superiority. That's a powerful combination for some and a distancing combination for all.
A CONSCIOUS LIVING PRACTICE FOR TODAY — APRIL 12
Look back at the personas you identified on April 10. Today, spend some time identifying external and internal rewards that you have frequently received for each persona.
Purchase "A Year of Living Consciously" by clicking the cover below: