A CONSCIOUS LIVING PRACTICE FOR TODAY – APRIL 13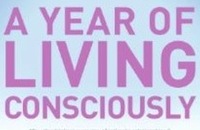 What you see in others has more to do with who you are than who other people are.
— Epictetus
PROJECTIONS AND PERSONAS
Personas—the masks you wear to protect your self from pain and to get the recognition of others—keep you from feeling the clarity and open spaciousness of who you are at the core. When you cling to a persona, it shapes the way you see the world.
For example, if I walk into a party wearing my "approval seeker" persona, I will see others at the party as "people to be pleased." If I'm wearing a "misunderstood genius" persona, the room is full of people who probably won't understand my genius. In other words, we project an image of our personas onto other people. No wonder we have so much trouble connecting with them.
A CONSCIOUS LIVING PRACTICE FOR TODAY — APRIL 13
Think of a past relationship that didn't work very well. Ask yourself: What was I seeing in the other person that was really a projection of a part of me I didn't like very much?
Purchase "A Year of Living Consciously" by clicking the cover below: