A CONSCIOUS LIVING PRACTICE FOR TODAY – APRIL 15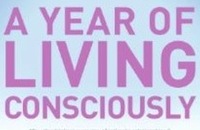 As a man is, so he sees.
— William Blake
A BLANKET OF GOODS
Focus for a moment on "things," the clutter of goods with which you surround yourself. In particular, think about the role that material goods serve. If you met a man with a ragged beard and old, torn clothing standing in front of a broken shack, what judgments might you make about him, about his life? If you later saw the same man in a sweeping mansion filled with beautiful art, with a Mercedes adorning the long, curved driveway looping around the house, how would those judgments change? Might you perhaps decide that the man is eccentric, an artist maybe, someone too caught up in the throes of creation to concern himself with Armani clothing and salon haircuts? It's all in the image, of course. How important is image to you? How tightly are you sheltering your resources today? How much do you define yourself in terms of what you have rather than what you are? If you lost it all tomorrow, ask yourself what would be left. The important question: Who are you without the blanket of goods that surrounds you? If the answer is hard to come by, it is time to divest, time to simplify, time to build up the inner existence and let go of the outer life that has defined and hidden you.
A CONSCIOUS LIVING PRACTICE FOR TODAY — APRIL 15
Make a list (on paper or in your head) of the three things on which you spend the most money each month (house, car, electronic equipment, etc.). Make another list of the three things that you spend time doing that bring you the most satisfaction. Compare the two lists. The more overlap, the more I would suggest you divest; if both your greatest expense and your greatest pleasure is a car, I would suggest that you are not focusing on a rich inner life but on a material outer life. And, I would wonder, from what are you running?
Simply being present with what is has so much power that you often do not give yourself more than a split second of it.
Purchase "A Year of Living Consciously" by clicking the cover below: