A CONSCIOUS LIVING PRACTICE FOR TODAY – APRIL 17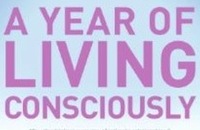 One kind word can warm three winter months.
— Japanese Proverb
OPPORTUNITIES FOR CONNECTION
Many of us don't appreciate that our lives are shaped by tiny moments of choice. We make hundreds of thousands of them each day, from the most mundane ("What tie shall I wear?") to the most profound ("Shall I become a parent?").
One of the most important choices we get from moment to moment is whether to reach out and connect authentically with another person or stay within the bubble of our own perceptions of that person.
Recently I met a person whom I hadn't seen in a few months. When I caught sight of her waving to me, I had a split-second realization that there was something I was angry at her about that I had not shared with her. Within a moment of saying hello, I found out she was leaving the country on a vacation. There I was, faced with a choice. Should I take advantage of the opportunity life had afforded me, to communicate with her and tell her what had been on my mind? Or should I let it go? I made the decision to tell her, and so I did. It took just a few moments to complete the communication, and we gave each other a hug and said good-bye. As I turned to leave, I was flooded with a deep sense of appreciation for her, especially for the way she'd listened to me. I called to her and spoke my appreciation to her. She responded with an appreciation of me. I left with a warm glow in my body, and she did too.
A CONSCIOUS LIVING PRACTICE FOR TODAY – APRIL 17
Pause for a moment to recommit to several things we've visited before. They are so important they bear focusing on again, and again.
Say, "I commit to accepting all my feelings, and to speaking about them authentically with people I meet."
Purchase "A Year of Living Consciously" by clicking the cover below: