A CONSCIOUS LIVING PRACTICE FOR TODAY – APRIL 19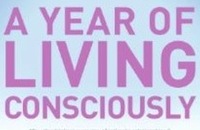 From without, no wonderful effect is wrought within ourselves, unless some interior, responding wonder meets it.
— Herman Melville
BREATHING KNOWLEDGE
Take a deep breath and look at what you have learned in just a little more time spent exploring and journeying:
You have permission to make mistakes.
A conscious journey consists of accepting and stating your feelings.
A conscious journey consists of telling and owning your truth.
A conscious journey consists of a commitment to wonder.
A conscious journey consists of a commitment to keeping agreements.
Miracle moments are signaled by windows of feeling and windows of unfairness.
Responding to miracle moments is simple if you state your feelings, own those feelings, and wonder about why you do and say the things you do.
I believe in moments of reflection, of taking stock of where I am, who I am, where I am going. Perhaps at this stage of your journey, it is time to step back and consider your starting point, changes you have made, and changes you feel beginning in you like new life. A wonderful way to begin to take stock is to check in with your body, allowing it to tell you what is new about you and what hangs on tenaciously, the ghosts of the past still clinging, like mist, around your heart.
A CONSCIOUS LIVING PRACTICE FOR TODAY – APRIL 19
Read the instructions through before beginning this exercise.
Take ten deep inhalations and exhalations, allowing yourself to focus completely on your physical sensations. Feel your belly and chest rise and fall with each breath, and let the thoughts of the day leave you with each breath until you are focused totally on your body. Allow yourself to focus in on the body part that is making itself most known to you, and caress it with your breath, encouraging it to tell you what it holds and why it is calling out to you right now. Unlock its secrets, encouraging them forth and embracing them, loving your joy, your fear, your past, all of the parts that make up who you are in this moment.
Purchase "A Year of Living Consciously" by clicking the cover below: