A CONSCIOUS LIVING PRACTICE FOR TODAY – APRIL 20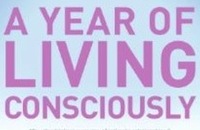 To be seventy years young is sometimes far more cheerful and hopeful than to be forty years old.
— Oliver Wendell Holmes Jr.
GOING BEYOND YOUR COMFORT ZONE
Some of the most vital people I've met are elders who make a practice of getting out of their comfort zone on a regular basis. At a psychology conference, I struck up a conversation with a vibrant, witty man of seventy-seven who was there to give a speech. I was impressed by his wisdom and zest for living, and I asked him point-blank how he got that way. He told me he'd been dying inside as a bored lawyer of forty-four, when suddenly the urge had come over him to become a medical doctor. When no U.S. school would take him, he learned a foreign language and went to medical school in Europe. By the time he finished his degree and residency he was fifty-one, an age when many people start looking forward to retiring. Not him, though. Having grown up in Manhattan, he was uncomfortable away from a city, so to overcome this discomfort he took a job as doctor at a remote reservation in the desert. Finally, I asked him what he was doing for fun. With a twinkle in his eye he said, "This year I'm doing ballroom dancing and learning to play sax."
A CONSCIOUS LIVING PRACTICE FOR TODAY – APRIL 20
As you go through your day, look for any ways in which you're living within your comfort zone. Ask yourself if there are "growth edges" you are not exploring because to do so would disturb your routines. Select a growth edge and take action on it—even if it's uncomfortable to do so.
Purchase "A Year of Living Consciously" by clicking the cover below: