A CONSCIOUS LIVING PRACTICE FOR TODAY – APRIL 21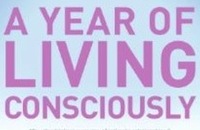 It is often hard to bear the tears that we ourselves have caused.
— Marcel Proust
DISTURBANCES OF RESPONSIBILITY
I take inspiration from M. Scott Peck's thoughts about responsibility in his well-known book The Road Less Traveled. He says, "Mental health problems are basically disturbances of responsibility. Neurotics take too much responsibility; people with character disorders take too little." As a human, you tend to see and experience responsibility as a burden or as a restriction of your freedom, when, in fact, it is the path to wholeness and to incredible freedom and lightness.
It is exhilarating to know yourself to be wholly responsible for your life—think back to those first heady moments in which you finally felt responsible for yourself, perhaps after you finished school and began working. Wasn't everything possible? Wasn't the world rich with possibility? This was because you knew that you were at the helm, piloting your own life. A powerful and freeing experience, responsibility.
A CONSCIOUS LIVING PRACTICE FOR TODAY – APRIL 21
Take a few moments to think about a significant intimate relationship you are currently in, or, if you are not in one at present, a recent one.
Answer these questions for yourself:
The relationship I have in mind is ________.
Our most frequent conflict is about ________.
This person at times reminds me of (another person) ________.
This conflict mirrors other conflicts I've been involved in because it ________.
Responsibility is a celebration of wholeness.
The corollary of dropping projection is taking full responsibility.
Purchase "A Year of Living Consciously" by clicking the cover below: