A CONSCIOUS LIVING PRACTICE FOR TODAY – APRIL 25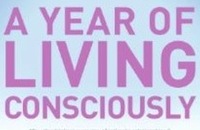 That man is richest whose pleasures are the cheapest.
— Henry David Thoreau
GOOD TIMES
Did I end my list yesterday with "I choose to have a good time over being right and making the other person wrong"? A good time? How can that be, when relationship is about struggle, about hard work, about slogging through the murky darkness of your soul in tandem with another?! Laura writes: I recently attended a wedding where the bride and groom had written their own vows, and as both are creative, loving people, I looked forward to hearing their words of affirmation and commitment. Instead, I heard a vow that sounded something like this: "We commit to doing the hard, painful work that is necessary to maintain a marriage in these troubled times. We promise to stand by each other during dark times and to support each other when it seems that the world or our marriage no longer does." The vows went on for quite a while in that vein. I listened, terribly saddened by their words. It is true that commitment involves riding out the waves, but where was the fun? What happened to joy? Their vows left out the promise to laugh together, to look lightly on the world and each other, to take the long, soul-filling walks that they so loved to take together. Relationship is not about misery or shouldering a cross; it is about joyfully walking together, recognizing that sometimes the path may be dark, but looking for and allowing yourself to feel the lightness in every step.
A CONSCIOUS LIVING PRACTICE FOR TODAY – APRIL 25
Using the ten-second rule (anything that truly carries the essence of you and your feelings can be said in ten seconds or less), think about how you might phrase a vow for your own relationship. You will have to trim out a lot in order to keep it to ten seconds, but consider it good practice for reaching the core of who you are and what you want and need in a relationship.
Purchase "A Year of Living Consciously" by clicking the cover below: