A CONSCIOUS LIVING PRACTICE FOR TODAY – APRIL 26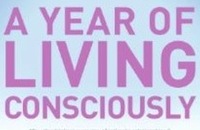 If a man will begin with certainties, he shall end in doubts; but if he will be content to begin with doubts, he shall end in certainties.
— Francis Bacon
BAROMETERS OF RELATIONSHIP HEALTH
At the core of the troubles that exist intra-personally (within yourself) and interpersonally (in your relationship with others) lie three areas I have already discussed as methods for creating a relationship. These three methods—accepting feelings, telling the truth, and keeping your agreements—can also serve as a barometer for what and how much is wrong in a relationship. I urge you to ask the following questions as you begin to explore your relationships and chart a course toward conscious living within them:
What truth is not being spoken here?
What feelings are not being experienced or accepted here?
What agreements have been broken here?
Try looking first within yourself to find answers to these questions.
A CONSCIOUS LIVING PRACTICE FOR TODAY – APRIL 26
Today, give yourself time and space to ask and begin to know the answers to these wonderings:
A truth that I have difficulty knowing about myself is ________.
A feeling that is difficult for me to experience and to accept in myself is ________.
An agreement that I have broken with myself is ________.
Purchase "A Year of Living Consciously" by clicking the cover below: