A CONSCIOUS LIVING PRACTICE FOR TODAY – APRIL 28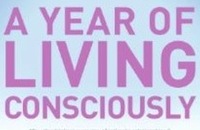 Always the beautiful answer who asks a more beautiful question. — e. e. cummings
ASKING HIGH-QUALITY QUESTIONS
The power of questions is immense, yet few of you really take advantage of that power in your daily conscious living. Many of you ask questions that are not really questions—they are really attacks in disguise or attempts to change another person: "Are you going to sit and watch television all day?" "Do you really need another pair of expensive shoes?" Today, make your questions count. Ask the highest-quality questions you can think up. Don't waste the power of questions on things you already know the answer to.
A CONSCIOUS LIVING PRACTICE FOR TODAY – APRIL 28
Today, ask only questions to which you really, with all your heart, want answers. Pause for a moment right now and ask yourself: What are the most important questions I need to ask in order to make the most of my journey of conscious living?
Purchase "A Year of Living Consciously" by clicking the cover below: