A CONSCIOUS LIVING PRACTICE FOR TODAY – APRIL 29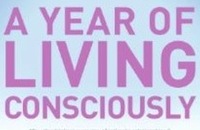 Life has got to be lived — that's all there is to it.
— Eleanor Roosevelt
THE BIG PICTURE
Keep the following big picture in the back of your mind: Get out your calculator and do a little math. Multiply your age times 365. If you want to be precise, add the number of days since your birthday. That will give you the number of days you've been breathing the air of this planet. Now subtract that number from 25,000, an average number of days an American lives. You might beat the average a little with good genes and healthy living, but, on the other hand, you might get on the wrong side of a bus next week. Once you get clear that you have x more times to wake up, it inspires you to do a more serious level of prioritizing. It inspires you to wonder: What's important?
A CONSCIOUS LIVING PRACTICE FOR TODAY – APRIL 29
If you have done your math and figured out the number of days you have left, take a moment to ask yourself: What's important? Think through your day with that question in your mind. If this were your last day, would this be what you would want to do?
Purchase "A Year of Living Consciously" by clicking the cover below: