A CONSCIOUS LIVING PRACTICE FOR TODAY – APRIL 3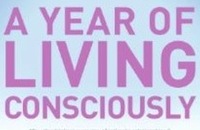 Believe not your own brother—believe, instead, your own blind eye.
— Russian Proverb
ACCEPTING FEELINGS
I have found that there are three things that people do to entrench themselves more deeply in relationship ruts. Thousands of times, working with couples in therapy, I have seen the fallout caused by not accepting feelings, not telling the truth, and not keeping agreements. By turning these three practices into their positive opposites, you create three powerful strategies for successful relationships. Let's talk first about accepting feelings, both your own and the feelings of others. When you do not allow yourself to know and experience your feelings, you put yourself into a state of conflict. The same is true when you do not allow others to feel what they feel in relation to you. Laura writes: As in my encounter with the monsters, when I told my son, in essence, that he did not know what he felt, any interaction in which feeling—an unarguable truth—is denied is an interaction that is damaging to both people involved.
A CONSCIOUS LIVING PRACTICE FOR TODAY – APRIL 3
Answer this question for yourself:
At this moment I feel..
Whatever you are feeling at this moment—happy, distracted, frustrated, calm—let yourself know it fully. Think of other times when you have had similar feelings and see if there is a connection. Let it link to your body. How do your physical sensations mirror the emotional experience? Sit with the feeling; embrace it because it is yours; love it.
When it is time for you to resolve a particular issue in your life, lasso someone to work it out with.
Purchase "A Year of Living Consciously" by clicking the cover below: