A CONSCIOUS LIVING PRACTICE FOR TODAY – APRIL 30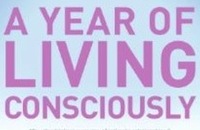 Yet there isn't a train I wouldn't take no matter where it's going.
— Edna St. Vincent Millay
A MAGICAL JOURNEY
Have you ever taken a trip that felt magical? Perhaps you went somewhere unfamiliar, to a place where the language, the food, and the customs felt foreign and exciting and magical. Or perhaps you returned to a place from your past and were able to relive moments of your life that hold fond, warm memories.
Laura writes: In my early thirties, with three young children, a full-time job, writing classes, and a volunteer position that took up a lot of time, I took a vacation—by myself. It was a gift to myself at a time when I needed quiet with near-desperation. For five days, I stayed in a hotel, and here's what I did: I ate when I wanted to eat. I slept when I was tired. I went swimming every day, and I wrote for hours, at whatever hours appealed to me. I visited with a dear friend and spent time laughing and feeling like someone I hadn't seen in a while—a younger, better-rested, lighter-hearted version of myself. At the end of the trip, I was delighted to return home to my children; I went back as a mother who was more present because I had taken the time to journey with myself. Those days are still magical to me, and I recall them when I am feeling pressured, overwhelmed, undervalued.
A CONSCIOUS LIVING PRACTICE FOR TODAY – APRIL 30
Whether your life will allow you to take a trip as extended as the one Laura writes about, or whether you can only get away for a few hours, your work (and play!) today is to plan a "vacation" for yourself. Even an afternoon can be a vacation, but here are the rules:
You get to choose where you're going.
You get to choose how to spend the time.
Your time must be spent on you and you alone.
Your vacation is intended to be pure pleasure…plan it that way!
Purchase "A Year of Living Consciously" by clicking the cover below: