A CONSCIOUS LIVING PRACTICE FOR TODAY – APRIL 5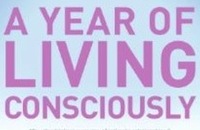 What lies behind us and what lies before us are small matters compared to what lies within us. — Ralph Waldo Emerson
KEEPING AGREEMENTS
I have discussed feeling all of your feelings and I have discussed honesty. What about breaking agreements? I'm thinking about a young friend whose parents divorced when he was still a toddler. He lived with his mother, a faithful and steady friend. His father, an exciting but shiftless man, would occasionally roar into the boy's life on a motorcycle, showering him with gifts that were expensive and useless, totally out of synch with the boy's age and life. When the rare weekends approached that the boy's father was coming for a visit, he would be excited, barely able to eat or sleep. Hours would tick by, and often the father would not show up. His mother would try to soften the blow, but my young friend s heart was broken. This happened countless times, and I watch him now as he breaks agreement after agreement in his own adult relationships. It is not inevitable that you will repeat the patterns of your early life, but it requires conscious attention and commitment to ensure that you don't. Agreements, whether to yourself or to others, should not be made if they cannot, or will not, be honored. You have the strength and the intelligence and the heart to know what you are willing and not willing to do. Allow yourself to know the difference and commit yourself to keeping your agreements; then watch your heart and your relationships blossom with the joy that trust, the result of kept agreements, brings.
A CONSCIOUS LIVING PRACTICE FOR TODAY – APRIL 5
Commitment: I commit to examine my heart before I make commitments, and to ask myself:
Is this something I choose to do?
Is this something I need to do?"
Is this something I will carry through with?
How will I damage myself and others if I do not keep this agreement?
Commitment: I commit to keeping the agreements I make, and to not making those commitments that I will not keep.
Purchase "A Year of Living Consciously" by clicking the cover below: