A CONSCIOUS LIVING PRACTICE FOR TODAY – APRIL 8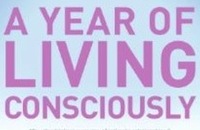 First say to yourself what you would be, and then do what you have to do. — Epictetus
PERFECTION
I hope you're learning not to be a perfectionist. The more I've lightened up on my perfectionism over the years, the more fun I've had and the more effective my actions have become. The only times I seem to do things perfectly is when I'm not think ing about doing them perfectly at all. I played a round of golf on vacation a while back, and I happened to be blessed with a partner who was a relentless perfectionist. With every shot, he groaned, cursed, critiqued, and cajoled his ball, his swing, his club, and the course. I don't think he experienced a moment of joy all afternoon. He gave me a model of what I most do not want to be, on the golf course or anywhere else in life.
I've learned to approach my infrequent rounds of golf—and my frequent rounds of life—in a completely different way. For me, it's a walk in a beautiful park, enriched with a light purpose. For me, the joy of golf is in the feeling of the swing, the sound of the ball-strike, the flight of the ball, the beauty of the surroundings. My partner apparently reserved his joy for the perfect outcome, and it just never happened.
A CONSCIOUS LIVING PRACTICE FOR TODAY – APRIL 8
Pause for a moment to circulate this thought through your mind: I'm not perfect; I'm fully human and fully flawed. I allow myself to make plenty of mistakes and learn from my experiences.
Purchase "A Year of Living Consciously" by clicking the cover below: