A CONSCIOUS LIVING PRACTICE FOR TODAY – APRIL 9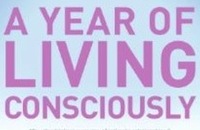 All our interior world is reality…and that perhaps more so than our apparent world.
— Marc Chagall
EMBRACING ESSENCE
You can visualize and embrace essence as who you were in your original form, as a pure, loving heart not yet bombarded with the world's messages: Be safe! Take care! Don't feel too much! Be this! Do that! (Try hanging around the parent of a toddler for an hour or so—for that matter, try being the parent of a toddler for an hour or so—and you'll see what I mean! The messages come early and they come in hordes.)
It can be hard work, separating who you are now from who you might have been, except for one saving grace: your essence is not lost. It is still inside of you awaiting a signal from you that it is welcome to blossom—more than welcome; indeed, you will embrace it with all the joy and ecstasy of a parent embracing a longed-for newborn for the first time. Words, as Mark Twain says, are not adequate, and so you will dwell in the realm of feeling, of music, of the soul, as you begin to reclaim your birthright: your essence.
A CONSCIOUS LIVING PRACTICE FOR TODAY – APRIL 9
The next time you have the opportunity to hold a very young baby, do so, and feel the ways in which this new person is completely of and in essence. Breathe deeply of the infant's unique scent, and feel the incredible softness of his or her skin. Listen to the sounds of deep breathing the infant makes; babies know, instinctively, how to breathe well. This infant that you hold is nothing less than pure essence. Learn something as you hold this bundle of essence: learn how to allow yourself to become more of who you are, and less of who you are supposed to be.
Purchase "A Year of Living Consciously" by clicking the cover below: