A CONSCIOUS LIVING PRACTICE FOR TODAY – AUGUST 1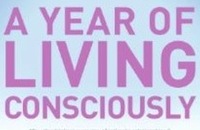 No inquiry on the inner plane is useful unless it translates to improved action, even social action, in the outer world.
WORRY NEVER GETS YOU ANYWHERE
People often are shocked when they find out the real reason for worry: it keeps you from having to take effective action. Many of you think that if you worry enough, some good will come out of it. Usually what happens is that you worry yourself into exhaustion, which causes you to let go of control long enough for some kind of more positive outcome to occur. The worry part can be eliminated—go directly to letting go.
You'll find that the worry was not a necessary part of the process. It was just noise created by your mind because it couldn't figure out a better technology. Next time you notice yourself worrying, try out a new technology, the "wonder question." A wonder question begins with the words I wonder and asks a question you genuinely don't know the answer to.
Maybe you are worrying about whether you have enough money to pay all your bills. Stop the worry stream and introduce a wonder question: "How can I always have plenty of money to do all the things I want to do?"
A CONSCIOUS LIVING PRACTICE FOR TODAY – AUGUST 1
As you move through your day, nip your "worry thoughts" in the bud and turn them into wonder questions. See how many wonder questions you can generate by the end of the day. Notice at the end of the day how much lighter you feel.
Purchase "A Year of Living Consciously" by clicking the cover below: