A CONSCIOUS LIVING PRACTICE FOR TODAY – AUGUST 10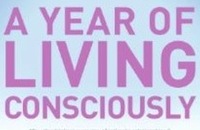 Man goeth to his long home, and the mourners go about the streets…
— Ecclesiastes 12:5
BARGAINING: A DEAL WITH THE DEVIL
The third typical stage of grief is bargaining. It goes something like this: if things can be restored to the way they were before, I will ________ (appreciate the deceased more, quit smoking, never say an angry word again, tell only the truth, and so on). If your anger is in response to the universe's reminder about the extent to which you lack control, bargaining is your attempt to regain a sense of control over the universe.
You have been rewriting your script, though, by experiencing denial as acceptance, and thus experiencing your anger for what it truly is: grief. The result? Less of a need to bargain with the universe, since you have already accepted reality. If you accept that there are reasons for the things that occur, even those things you least understand and that cause you the greatest sorrow, you are unlikely to experience the urge to try to control the master plan. What is, is.
In this world of Western logic, we often rail against the more Eastern mind-set, which is fate-based. I would recommend giving the Eastern approach a try. This is not to say that you are without responsibility, without impact on the world around you. To the contrary. Instead, I am simply saying that once something takes place, it is. It is no longer negotiable, and to the extent that you can let go of your need to try to rewrite history, you will be living in more of a state of synchronicity and acceptance with the universe.
A CONSCIOUS LIVING PRACTICE FOR TODAY – AUGUST 10
Again focusing on your greatest loss, do you recall any bargains that you tried to strike? What were they? When you realized that your bargaining would not change the course of events, how did you feel?
The bargains I tried to make were ________.
When my bargains didn't work, I felt ______.
Purchase "A Year of Living Consciously" by clicking the cover below: