A CONSCIOUS LIVING PRACTICE FOR TODAY – AUGUST 11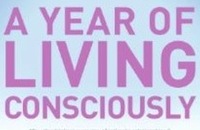 And you wonder where we're going, where's the rhyme, where's the reason?
— John Denver
DEPRESSION: WHEN BARGAINING FAILS
When bargaining fails to work, as it inevitably will (try controlling the universe; you'll notice that it is notoriously resistant to your attempts), depression can set in. It is my belief that this depression is the answer at which people most often arrive when faced, in one experience, with both loss and a sense of their own helplessness. If you recall, though, that your helplessness is because of the futility of your attempts to control that which cannot and will not be controlled, you have tremendous power, then, to change your experience of grief—and again, it all goes back to that initial processing of your loss. It all goes back to acceptance of reality.
Letting go, letting acceptance rather than resistance rule your experience of life—and loss—you become a part of the machinery of the universe rather than a wrench thrown into the works. The wrench never stops the wheel from turning for long; in the end, it is spit out, damaged and changed. You must refashion yourself so that you no longer need to be the wrench; instead, you must see yourself, even at the worst of times, as an integral piece of the puzzle that surrounds you. The fact that there are times when you do not understand the rhyme or reason of the puzzle does not mean that you are not part of it. Better to be a part of the universe, unable to see its whole at times because you are in the middle of it, than standing on the outside, trying to stop it from being what it is.
A CONSCIOUS LIVING PRACTICE FOR TODAY – AUGUST 11
What finally allowed you to begin to move past your deep sorrow? As you look back now, can you see ways in which you prolonged your sadness by your resistance of it?
Purchase "A Year of Living Consciously" by clicking the cover below: