A CONSCIOUS LIVING PRACTICE FOR TODAY – AUGUST 12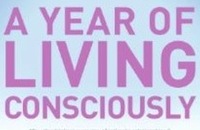 I am going to seek a great Perhaps.
— François Rabelais' dying words
ACCEPTANCE: THE PATH TO ETERNITY
Laura writes: One day in the halls of a university, I overheard a public-speaking student talking to a friend. He was explaining to the friend how one writes the proper eulogy. "You gotta acknowledge the death, acknowledge the life, acknowledge the grief, help people accept it, yada yada yada," he said. I laughed at his somewhat callous and calculated methodology for helping people deal with loss, and yet the more I thought about, the more I realized that he was right, at least from a technical standpoint. All good eulogies I've heard met the exact criteria he identified. And what it comes down to is that they're all about the acceptance of reality, the acceptance, as Gay has said, that what is, is.
And here, in what is the fifth stage of the typical grief response, I come to acceptance, to what I intuitively believe should be your first and most important work when confronted with loss. Acceptance.
I believe that it is important to write this reminder: I am not suggesting that sorrow and a sense of loss and a sense of rage at your loss is abnormal or wrong or bad. I, too, have experienced great loss, and will continue to do so, I know, throughout my life. I have not danced or clicked my heels or sent shouts of joy to the heavens during times of loss; I have probably done what you have done: asked why such pain is necessary, and tried to duck and dodge the sorrow. What I have learned, though, is that railing against fate, demanding that the wheel stop turning or that time reverse itself or refusing to accept reality only prolongs my experiencing of loss and distances me from the very universe that can comfort me in its hugeness and its depth.
A CONSCIOUS LIVING PRACTICE FOR TODAY – AUGUST 12
As you look back now on your greatest loss, have you accepted what happened? If you have, how did you reach acceptance? If you have not, what is one thing that you can do today to move yourself forward in your journey?
Purchase "A Year of Living Consciously" by clicking the cover below: