A CONSCIOUS LIVING PRACTICE FOR TODAY – AUGUST 18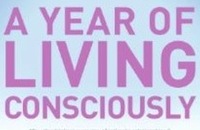 He who wants a rose must respect the thorn.
— Persian proverb
BREAKING OUT OF THE PRISON OF IDENTITY
In the journey of learning to live consciously, you may find, especially if you've reached midlife, that the very identities that enabled you to become successful have to be let go so that your deeper self can emerge. I got my Ph.D. in 1974, and, after doing the required thousand hours of supervised internship, I received my clinical psychology license. By doing these things, I became qualified to assume the identity of "psychologist." Although I was proud of this identity, and it enabled me to help many people, eventually I found that it had a downside. Because I was now a doctor and an authority figure, it became more difficult to relate to people simply as human beings. Because of my identity, I had to struggle not to see people in terms of their problems. I found that to become the kind of therapist I wanted to be, I had to see through my identity so I could connect with people purely on universal human terms. The process—of letting go of my professional identity so I can be the professional I want to be – continues every day.
A CONSCIOUS LIVING PRACTICE FOR TODAY – AUGUST 18
Ask yourself: What are my treasured identities? What are their values? What are their costs? How can I hold my identities in such a way that I become most authentic?
Purchase "A Year of Living Consciously" by clicking the cover below: