A CONSCIOUS LIVING PRACTICE FOR TODAY – AUGUST 19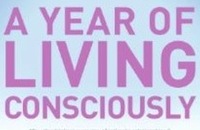 The tragedy of life is not so much what men suffer, but rather what they miss.
— Thomas Carlyle
MOOD RINGS
You may or may not be old enough to remember the phenomenon of mood rings. They hit the market in the 1970s, right around the time of earth shoes and pet rocks, if I recall correctly. The concept with mood rings was that you wore the ring and it changed color based on your body temperature, indicating your mood by the color of the stone in the ring. When the stone turned green, you were happy; if it was red, you were angry…and so on. I was never quite sure how the thing worked, but it made a good conversation-starter, if nothing else.
What if you could put on something that reversed the process? What if you could put on a ring that was green (for happy) and you'd feel happy? You can. Remember my earlier discussion about discarding clothing and saving only that which you feel great wearing? It is time to start thinking about this process in a grand way; it is time to start giving thought to simplifying your life and relationships. You may start with eliminating clothing that doesn't make you feel light and free; next you move to behaviors that do not work for you anymore; eventually you are going to come to limiting or eliminating altogether relationships that are toxic or damaging.
For today, it is enough to know that this is ahead of you and to begin to give thought to both the letting go and the receiving that will be a part of your conscious future.
A CONSCIOUS LIVING PRACTICE FOR TODAY – AUGUST 19
Below, think about one material change and one behavioral change that you have made since beginning your journey. Then think about one relational change that is ahead of you.
Material __________
Behavioral __________
Rational __________
Purchase "A Year of Living Consciously" by clicking the cover below: