A CONSCIOUS LIVING PRACTICE FOR TODAY – AUGUST 25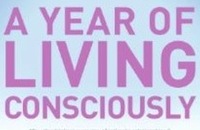 A man's dying is more the survivors' affair than his own.
— Thomas Mann
MERCY AND GRACE
Laura writes: On the day of my grandfather's funeral, I stood in front of the church. The limousine that carried my mother, her three sisters, and her brother was only a few feet away. As I talked to an old family friend, we were both distracted by noises coming from the limousine. Looking at it, we became aware that it was actually shaking slightly, and from inside, despite its closed windows and doors, we could both hear what sounded like wailing.
"Those poor kids," sympathized the friend, shaking his head as he imagined the grief-torn family inside the limo. "They're completely torn up. They're crying so hard they're actually shaking the car."
I nodded solemnly, but something struck me as odd. I'd heard those sounds before in my raucous family, and they weren't wailing sounds. Sure enough, when I pulled my mother aside at the small luncheon later, she surreptitiously looked around and then grinned.
She said: "We were telling funny stories about Daddy and laughing. What you heard was wailing, yes, but we were wailing with laughter." I must have looked at her somewhat askance. "You think Grandpa wouldn't have been right in there with us, egging us on?" she asked. And she was right.
I have learned both love and loss at my mother's knee, and this is perhaps the most important lesson I have learned: laughter soothes; laughter heals. In everything, there is a space, waiting to be filled, for laughter.
A CONSCIOUS LIVING PRACTICE FOR TODAY – AUGUST 25
There are two ways to view a red nose: it can be the result of tears, or it can be a clowns nose, pointing out absurdity, humor, silliness. Think back on a time of grief and a moment when you, perhaps, found something humorous in the grief. Did you censor yourself or did you allow yourself the acceptance to be healed with humor?
Purchase "A Year of Living Consciously" by clicking the cover below: