A CONSCIOUS LIVING PRACTICE FOR TODAY – AUGUST 26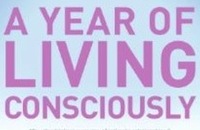 For the unlearned, old age is winter;
for the learned, it is the season of the harvest.
— Hasidic proverb
WHEN I AM A YOUNG WOMAN, I SHALL…
Laura writes: Not long ago I read a lovely collection of poetry, essays, and art. The book, When I Am an Old Woman, I Shall Wear Purple, celebrates aging with exuberance, spontaneity, and individuality. Must you wait until the children are raised, the retirement is achieved, and the bones in your body protest before you feel free to make contact with that which is most unique, most free, most you about you? Why waste so many years in a staid, predictable, don't-rock-the-boat mentality?
It is true that your children may bow their heads with embarrassment at the sight of you spontaneously dancing in the park, but, I assure you, if your children are above the age of ten and under the age of thirty or so, they will bow their heads in embarrassment regardless of what you do. So your colleagues, your family members, will look at you as if you've lost your mind when you sing loudly in the elevator, when you tell a truth that has been banging around inside your careful head, when you cry openly at something that moves you. My response and theory is, perhaps, not phrased in quite the way that a textbook on human behavior and psychology might phrase it, but despite that, my response is…so what? So what? And so I began wearing hats. It hardly qualifies as radical, and yet, despite loving hats, I had avoided them because I worried that people might look at me oddly.
I, in my fiftieth year, started writing a screenplay, despite the insistence of some that I should stick to what I know best and have achieved success at—nonfiction relationship/personal growth books—in order to avoid the possibility of failure.
What aren't you doing because of your fear?
A CONSCIOUS LIVING PRACTICE FOR TODAY – AUGUST 26
Identify one thing you'd love to do—wear a hat, write a poem, sing at an open-mike night at a local pub—and then…do it.
Purchase "A Year of Living Consciously" by clicking the cover below: