A CONSCIOUS LIVING PRACTICE FOR TODAY – AUGUST 28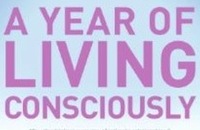 Doubt is not a pleasant condition,
but certainty is.
— Voltaire
THAT WHICH IS REAL
Who are you most sure of in your life? What is trust—and can you trust it? Today your work is to look at your relationships under the gentle—but bright—light of the truth. Who is most central to you, and to whom are you most central? Are they the same people? What most defines these central relationships in which you are involved? If trust, truth, and acceptance are not the defining features of these relationships, it is time to begin rethinking and redrawing them. You have the ability—and the absolute right—to do so.
A CONSCIOUS LIVING PRACTICE FOR TODAY – AUGUST 28
Think of two or three of the most significant relationships in your life. Think of the dominant emotional tone of each relationship: joy, fear, love, despair. Then, zoom in to a closer focus: What is missing in each of these relationships? Sometimes what's missing is laughter; other times it's accountability. Only you know what's missing, and until you do, it will be difficult to find out if the missing element can be found.
Purchase "A Year of Living Consciously" by clicking the cover below: