A CONSCIOUS LIVING PRACTICE FOR TODAY – AUGUST 30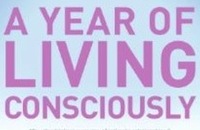 Everything that is done in the world is done by hope. — Martin Luther
THE PRACTICE OF CONFESSION
You have probably heard of (or perhaps experienced) the Catholic practice of confession, in which you share your sins with a priest, ask for forgiveness, and then perform an act of penance to make up for the sins. You mirror this practice in everyday life if you are in conscious relationship. You open yourself to awareness of the mistakes you make and commit to honesty with others about those mistakes, and then you try to make things right.
To admit to a mistake—large or small—is a fearful business for many people. The worry seems to be that admitting to a mistake will make you less of a person; it will acknowledge your imperfections to a wider audience. And, in fact, it does broadcast your imperfections, but this is a good thing. By admitting to your humanity—the imperfection that lives in you—you become more fully human, and more fully connected with others, who know that they, too, are imperfect.
A CONSCIOUS LIVING PRACTICE FOR TODAY – AUGUST 30
Imagine yourself as both confessor and confessee—in other words, you are both priest and parishioner to yourself. What might you admit about yourself? What have you done lately that is not in keeping with your integrity? Focus on one thing you have done that points to your imperfection, and then spend a moment loving yourself for both your imperfection and your honesty in knowing about your imperfection. And now make it right: identify a way in which you can acknowledge and expiate this behavior. Almost always, expiation comes when you expose your imperfections to the accepting light of day.
Purchase "A Year of Living Consciously" by clicking the cover below: