A CONSCIOUS LIVING PRACTICE FOR TODAY – AUGUST 6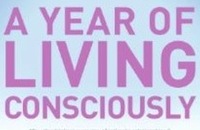 Let my heart be wise. It is the gods' best gift.
— Euripides
A STATE OF GRACE
When I was younger, I had a prayer or an affirmation that went something like this: Please give me ____ (whatever it is I want). Whether it was a job or a lover or a financial windfall was largely irrelevant; I asked that the universe adapt itself to my wishes and desires. As I gained more age and experience, my prayers and affirmations changed, and whether you believe in a deity, fate, or some other force—perhaps a combination of personal will and the randomness of fate—that determines the larger outcomes in your life, I encourage you to consider the content of your requests of the universe.
A conscious life means living in a state of grace in which you recognize and accept that you have tremendous influence on and responsibility for that which happens in your life—and recognizing and accepting that there are times when your wishes are not fulfilled, and that the universe has a reason for disappointing you. You cannot know the master plan, or perhaps there is no master plan at all; you can only live your life consciously and responsibly, and then you must surrender to the grace of accepting reality as it is, not as you would sometimes wish it to be.
A CONSCIOUS LIVING PRACTICE FOR TODAY – AUGUST 6
When you are most in conflict with reality, wishing most for things to be as they are not, repeat this affirmation to yourself: My greatest wish is to live in a state of harmony and grace and to gracefully and lovingly accept that which I cannot change.
Purchase "A Year of Living Consciously" by clicking the cover below: