A CONSCIOUS LIVING PRACTICE FOR TODAY – AUGUST 7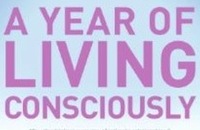 Wisdom comes alone through suffering.
— Aeschylus
RECONSTRUCTION
A woman I know who is in her eighties recently had a facelift, believing that restoring her youthful appearance would also restore the happiness she remembers from an earlier time in her life. At around the same time, her great-niece, a woman in her twenties, underwent liposuction to remove cellulite and fat from her hips and thighs. The younger woman's hopes were similar to those of her much-older aunt; she was convinced that she would find love and be happier once her body matched an imagined ideal. A year of so after the surgeries, I had the opportunity to speak separately to each of the women, who did, indeed, both look different.
The older woman showed us the tiny scars hidden in her hairline, and she bitterly remarked on the somewhat odd perpetual smile she now wore as the result of the tightness of her skin. "I wasn't happy before the surgery," she said sadly. "And I just look like I'm happy now."
The niece showed off her new figure and said she still hadn't met the man of her dreams. "I suppose men look at me more now," she sighed, "but looking isn't touching. So far, nothing has changed."
You can tighten, you can remove the excess; it is a truth in our medical-miracle society. Better to loosen up the sadness blocked inside first, though, or slowly carve off the behaviors and walls that make you seem unapproachable.
A CONSCIOUS LIVING PRACTICE FOR TODAY – AUGUST 7
Focus on the part of your body you most often wish was different. Close your eyes now and love that part of yourself. Love the roundness of your hips, the softness of your skin, the you that is the part of yourself that most needs your loving acceptance.
Purchase "A Year of Living Consciously" by clicking the cover below: