A CONSCIOUS LIVING PRACTICE FOR TODAY – AUGUST 8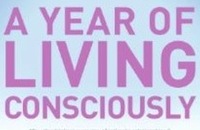 The eye is the jewel of the body.
— Henry David Thoreau
DENIAL: THE FIRST LINE OF DEFENSE
Elisabeth Kübler-Ross, the author of Death and Dying and the scholar who first introduced the world to the stages of grief that we all experience, identified five typical stages to loss. The first stage, denial, occurs when a loss is first experienced. Whether the loss is the death of a loved one, a diagnosis of illness for ourself, or any other severe trauma to our life, most of us tend to initially enter a state of denial: This can't be! I don't believe this! I refuse to accept that this is so! While even the most conscious among you does not reach out your arms, grinning, to embrace bad news, your initial reaction to loss or potential loss can color every moment that occurs from that point on in the grieving process. A strong faith—whether in a God or fate or a set of rules that you live and love by—helps to short-circuit the process of denial. While I do not enjoy loss, I accept it; I recognize that loss is no less a part of the greater plan of the universe than is love, and that the more love and connection I experience with others, the more loss I stand to experience when I lose loved ones, through death or distance.
Consciously living out the experience of loss means starting at a place of acceptance, preparing yourself well before your first loss for the eventual, unavoidable loss that will occur. We all live—some more than others—and we all die. It is a fact of the universe, and the denial, the tightening of your heart and mind against the inevitable, is part of what creates such tremendous pain in the experience of loss.
A CONSCIOUS LIVING PRACTICE FOR TODAY – AUGUST 8
Think again, as you did yesterday, of the greatest loss you have experienced. Remember your initial reaction. How did denial manifest itself? Below is a list of the three typical ways in which we experience denial. Think for a few moments today about the ways in which you experienced denial, and an alternative had you lived in acceptance.
Physical denial: ________
Mental denial: ________
Emotional denial: _______
Purchase "A Year of Living Consciously" by clicking the cover below: