A CONSCIOUS LIVING PRACTICE FOR TODAY – DECEMBER 11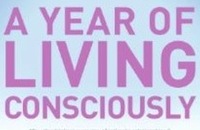 After the game, the king and pawn go into the same box. — an Italian proverb
LOOKING FOR DIFFERENCES
Our brains are highly skilled at looking for differences. Just to walk across the room, for example, your brain has to make a multitude of decisions about one thing being different from another. To take a step, your brain has to notice the difference between your foot and the floor and then do it all over again a second later. You could even say that we evolved because of millions of years of noticing differences.
One of the biggest problems in relationships is the tendency to focus on differences rather than similarities. In couples counseling, I've noticed that a couple may have a thousand similarities but spend their time and energy fighting about a few differences. It helps to realize that you come wired from the factory to notice differences. Once you realize that this tendency is part of your inherited physiology, you don't need to take it as seriously. You can put more of your energy into celebrating similarities.
A CONSCIOUS LIVING PRACTICE FOR TODAY – DECEMBER 11
In your day's activities, go in search of similarities. As you encounter a coworker, for example, ask yourself, "How am I like this person?" Take time to celebrate the way you and others are just alike.
Purchase "A Year of Living Consciously" by clicking the cover below: