A CONSCIOUS LIVING PRACTICE FOR TODAY – DECEMBER 13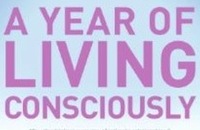 Our fears are more numerous than our dangers, and we suffer more in our imagination than in reality. — Seneca
REAL THREATS, IMAGINARY FEARS
Nature has gifted you (or cursed you, depending on how you look at it) with an exquisitely sensitive nervous system. Sometimes it may seem like a very nervous system, indeed. Laboratory studies show that your "fear machinery" can fire off at the tiniest of provocations—even the thought of a feared object, such as a snake, can cause your heart rate to pump up and your hands to get clammy. That's why, in learning to live consciously, it's a good idea to put a lot of your attention on noticing which of your fears are based on imaginary events and which are based on real events.
Real threats can be dealt with or endured. Imaginary threats cannot be dealt with or endured, because they're not real. The only move that can help with imaginary threats is to regard them as what they are—imaginary.
A CONSCIOUS LIVING PRACTICE FOR TODAY – DECEMBER 13
Make a study today of the things that upset you, rile you up, and scare you. Notice how many of them take place between your ears and how many take place out in the world around you.
Purchase "A Year of Living Consciously" by clicking the cover below: