A CONSCIOUS LIVING PRACTICE FOR TODAY – DECEMBER 16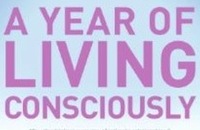 Courage is the price that life exacts for granting peace. — Amelia Earhart
APPRECIATE RICHLY
From thousands of years of dealing with adversity, our minds have become finely honed to look for what's wrong. A parent can wake up at the tiniest whimper of the baby in the next room, and a driver can detect the subtle shimmy that may become a full-fledged rattle if unattended. All day and all night you are keenly attuned to what might be going wrong, especially when things are going well.
For this reason, it takes a heroic commitment on your part to focus on what's right. Focusing on what's right is a key skill of conscious living. What you focus on tends to grow, so if you want to have more joy in your relationships, you need to focus on the joy you have. If you want more creativity in your life, you need to focus on the creative gifts you enjoy.
It's as simple as that.
A CONSCIOUS LIVING PRACTICE FOR TODAY – DECEMBER 16
Looking around you this moment, appreciate the things you see. As you go through your day, pause now and then to take stock of the richness of your life. Appreciate more, and notice that, as if by magic, you have more to appreciate.
Purchase "A Year of Living Consciously" by clicking the cover below: