A CONSCIOUS LIVING PRACTICE FOR TODAY – DECEMBER 17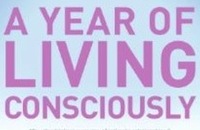 People hardly ever make use of the freedom they have; for example, freedom of thought; instead they demand freedom of speech as a compensation. — Soren Kierkegaard
FEAR AND MOVING FORWARD
Laura wrote to tell me of a friend's discovery: The friend was ending a marriage, and said she wasn't afraid of losing the relationship or supporting her kids or even being alone at night. She said the one thing she feared was trying to remember how to connect with people again. She said she had "relationship laryngitis," which she defined as an inability to remember how to do small talk, carry on a conversation, make dates, and so forth. One night at a pub, she looked around the table and saw a woman of nearly fifty who was getting divorced after twenty-six years of marriage, a man who'd never lived with anyone except his parents, a couple who was newly dating, and a woman who was single and in her thirties and deeply wanted children.
Suddenly she realized: We all have the same issue to face. Every one of us is always confronted with the task of connecting with people in an authentic way. She felt her whole body relax as she knew she wasn't alone anymore.
A CONSCIOUS LIVING PRACTICE FOR TODAY – DECEMBER 17
Today, muster the courage to connect with someone you haven't made contact with ever or for a long time. Reach out to a person—a new acquaintance or an estranged one—and see what happens.
Purchase "A Year of Living Consciously" by clicking the cover below: