A CONSCIOUS LIVING PRACTICE FOR TODAY – DECEMBER 18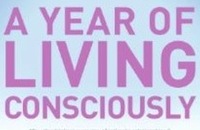 A man, Sir, should keep his friendship in constant repair. — Samuel Johnson
HAVING A HONEY
Laura writes: My family is fortunate to have had the same babysitter for almost four years. Two of my sons can't even remember another sitter. It's not just the long-standing nature of the relationship that's important, of course; "Honey," our sitter, is a part of the family. She's a child at heart and an adult at mind; the ideal combination to make children feel happy and parents feel safe. Christopher, my oldest son, introduces her: "This is Honey. She's not just our friend. She's family." And this is the magic of Honey—she is one of those people who is so enmeshed, in all the right ways, in our lives, that she is, indeed, family. She is acquired family, the kind that I hope you also have in your circle of friends.
You are born into whatever family creates you. This is not about choice. As children, you often absorb the ways of that family in ways that stay with you forever—although you do have choices about what you keep and what you discard as you get older. But friends, friends are all about choice; about the freedom to surround yourself with the kind of people you want in your life. There is nothing artificial, nothing forced or contrived, in the best of your friendships; they are freely chosen, freely continued, and they make you larger than you might otherwise be.
A CONSCIOUS LIVING PRACTICE FOR TODAY – DECEMBER 18
Today, think about the circle of friends in your life: new friends and old, familiar friends. They are woven into the fabric of your experience, knowing things about you; about the way you see the world. Take a moment to appreciate your family of friends; they are a gift you give yourself every day.
Purchase "A Year of Living Consciously" by clicking the cover below: