A CONSCIOUS LIVING PRACTICE FOR TODAY – DECEMBER 2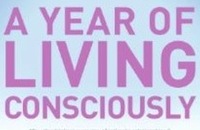 THE GIFT OF RIDICULE
Ridicule should be worn by creative people as a badge of honor, because so many of the inventions you take for granted were greeted with derision by the ignorant. You may never have heard of Clarence Saunders, a grocer who was ridiculed far and wide by his peers for an idea he tried out around 1920. Up until then you presented your list to a clerk, who went back to the shelves and brought your groceries to you. Saunders started allowing shoppers to wander among the shelves and pick out their own stuff. Lo and behold, he discovered that this freedom inspired shoppers to buy more than they had on their list. Almost before his critics had stopped laughing, Saunders had a chain of forty stores dedicated to "freedom shopping".
A CONSCIOUS LIVING PRACTICE FOR TODAY – DECEMBER 2
As you move through your day, look for ways in which you could create more freedom in your life. Is there an invention or a change you could make that would create more ease?
Purchase "A Year of Living Consciously" by clicking the cover below: