A CONSCIOUS LIVING PRACTICE FOR TODAY – DECEMBER 24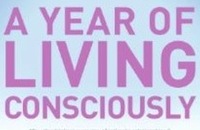 Sit down before fact as a little child, be prepared to give up every preconceived notion, follow humbly wherever and to whatever abyss nature Leads, or you shall learn nothing.
— Thomas Huxley
A PLACE IN THE WORLD
As we began this journey, one of the questions that we asked was "Who am I?" Conscious living speaks to the heart of who we are in the universe. It says that we are all equal parts of the whole, and to pretend that we are larger than we are—special cases—is not only a fantasy, but a potentially disastrous one. Conversely, to see ourselves as less significant than we are is equally dangerous.
We must be wary not to embrace any belief that takes us out of oneness with the universe. The moment we do so we render our force-field dense and impermeable.
There is no doubt that the universe is supporting us constantly. From the beginning of life, when we received sustenance through another's body, until today, as you resonate with the universe in a thousand ways, large and small, you are a part of the magical tapestry that is woven of the universe and its inhabitants.
A CONSCIOUS LIVING PRACTICE FOR TODAY – DECEMBER 24
Close your eyes and breathe deeply. Imagine your world—family, home, work—as a huge tapestry. See yourself as you are, woven into the fabric of this tapestry. When you act outside of your heart—behave in ways that are inconsistent with this universe—you cause an unraveling to begin. Focus on the ways in which you can strengthen the material of your life, of the lives around you.
Purchase "A Year of Living Consciously" by clicking the cover below: