A CONSCIOUS LIVING PRACTICE FOR TODAY – DECEMBER 25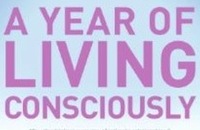 Some are born to sweet delight.
— William Blake
GIVING AND RECEIVING
As humans, we are often creatures of excess. Bigger is better (size does count, doesn't it?), more is better, and excess is even better than more. The biggest house, the tallest Christmas tree, the most gifts under the tree; you may find yourself at times in a battle with the universe, one of your own making, to prove that in your excess you are more generous, more successful—and more immortal. Surround yourself with things and you stave off mortality; this is how the thinking seems to unfold. It is as if death will be unable to find you if you are hidden beneath a layer of material coverings.
Today, on the day that many celebrate the birth of Christ, on a day that has become a pageant of giving and receiving, take a few moments to consider what is real. If you stripped down your life to what is most important, most real, what would be left? Relationship. Not houses. Not cars. Not those ribboned gifts under the tree. People would be left. Knowing this, celebrate your relationships today: their birth, their existence, their importance in your life.
A CONSCIOUS LIVING PRACTICE FOR TODAY – DECEMBER 25
For today, you are going to simplify your celebration.
The most important gifts in my life are________.
Tell your loved ones what they mean to you today. Celebrate the joyful, hopeful essence of human relationship; honor it by giving voice to how you feel.
Purchase "A Year of Living Consciously" by clicking the cover below: