A CONSCIOUS LIVING PRACTICE FOR TODAY – DECEMBER 27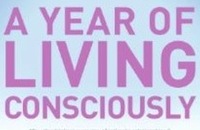 In three words I can sum up everything I've learned about life: It goes on. — Robert Frost
PERSPECTIVE
A key learning to take with you on the journey of conscious living is a sense of perspective, a recognition that you must pick your battles, recognize that there are some small things in life, and know that there are times when letting go is the greatest gift you can give yourself, whether you are letting go of a feeling, an object, or a person. It's all a question of perspective, of learning to be able to take a step back from your life and see what is important and what is less so. It can be difficult to do this in the thick of things, but it is a skill well worth cultivating.
The essential element in gaining perspective is keeping an eye on yourself, knowing who you are and where you are heading. If you are with yourself, living in a state of integrity—in which you are engaged in an ongoing dialogue with yourself about who you are and what is true for you—perspective will be a natural outgrowth, because things will fall away that do not flow with who you are. The key is to be ever-vigilant in knowing yourself and honoring yourself, and, when you begin to receive the telltale signs from yourself that you are slipping out of integrity, to make corrections in a gentle, self-accepting way, to bring yourself back to the state of integrity.
A CONSCIOUS LIVING PRACTICE FOR TODAY – DECEMBER 27
When you feel the signs from your body that tell you that you are slipping out of a state of integrity, stop what you are doing. Practice now; breathe deeply and slowly and repeat this affirmation aloud: I commit to being open to hearing the messages from myself about who I am and what it is that I want in my life.
Purchase "A Year of Living Consciously" by clicking the cover below: