A CONSCIOUS LIVING PRACTICE FOR TODAY – DECEMBER 31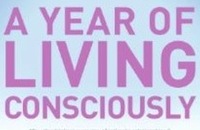 No person was ever honoured for what he received. Honour has been the reward for what he gave. — Calvin Coolidge
A TIME FOR HONORING
As your year of living consciously draws toward a close, you are also in a gift-giving time of the year. Be sure you give yourself the gift of taking time out for honoring. Honor yourself for having the courage and commitment to spend a year of your life in a quest for conscious living. Honor all your feelings that have emerged as this year progressed. Honor all the people who have supported you throughout your life. A chance meeting with a person, or the encounter of a certain book at a certain time, may have enabled you on your journey of conscious living.
To pass time in line at a grocery store in 1968, I picked off the rack a paperback about yoga, spontaneously opening it to a section on breathing exercises. That night I tried some of the stretching and breathing practices, making the discovery that they felt delicious to my out-of-shape body. Within a year I'd lost weight, stopped smoking, and put my new learnings to work in my therapy practice. Now I'm a contributor to the field of body-centered psychotherapy and the author of a book entirely about breathing! A magical lifepath—all from a moments decision in a supermarket.
A CONSCIOUS LIVING PRACTICE FOR TODAY – DECEMBER 31
Pause now to honor the people and experiences that have influenced you on your journey of living consciously. Send them a silent "thank-you" through the ethers, even if they are long gone. Appreciate them for the blessings they have given you, and bless them in turn on their journey.
Purchase "A Year of Living Consciously" by clicking the cover below: