A CONSCIOUS LIVING PRACTICE FOR TODAY – DECEMBER 5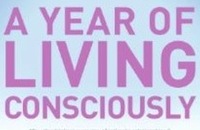 FLOODING AND FLOWING
When feelings flood, it is usually because you have built them up—picture a vast reservoir of feeling that has been dammed up inside of you, and, at some point, the damn dam breaks. Woe to anyone in the path of the powerful floodwaters of your unchecked feelings. You can choose to harness this "energy—a topic I've been discussing in great detail for a number of days now—and direct it toward a. flow of feeling, which washes everything clean, rather than a flood bent on destruction.
Interpersonal communication scholars recommend the following approach for dealing with feelings that may seem overwhelming or difficult:
Step One
Describe the behavior you observed.
Step Two
Interpret the behavior you observed.
Step Three
Share how you feel as a result of the behavior.
Step Four
Discuss the consequences of the behavior.
Step Five
Discuss your intentions as a result of the behavior.
For the next five days, I will discuss each step in detail, walking you through the why and the how of each part of this approach to conflict management and "feeling sharing." For today, commit to learning and practicing this new way of honoring your feelings.
A CONSCIOUS LIVING PRACTICE FOR TODAY – DECEMBER 5
You have been learning a great deal, I hope, over the months that you've been on your journey with me. Today, commit to another learning, one that I have committed to totally, and one that can have life-changing implications because of how well it helps you to share "big" feelings and confront difficult relational issues.
Commitment: I commit to learning how to honor my feelings and perceptions and those of the others with whom I have relationship.
Purchase "A Year of Living Consciously" by clicking the cover below: