A CONSCIOUS LIVING PRACTICE FOR TODAY – FEBRUARY 1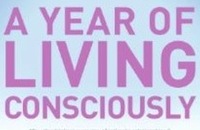 Life can only take place in the present moment. — Buddha
A SIMPLE FORMULA FOR CONSCIOUS LIVING
A graduate student in a class I was teaching a few years ago asked me a great question: If you could put a slogan on a T-shirt that everyone wore, what would the slogan say? In essence, she was asking for the simplest possible summation of the principles of conscious living. I came up with two, then the class joined in and we had a stimulating brainstorming session in which they came up with variations of their own. My first one was: Feel all your feelings, tell all your truth, and keep all your agreements. My second one was: Feel what you feel, get clear on your purpose, and do what needs to be done.
It's important in life to feel all your feelings, but don't stop there. You may wake up the morning you're to give a big speech with a sore throat and a deep conviction that you don't want to do it. Purely listening to your feelings might keep you in bed. But you also need to be clear on your purpose. Perhaps your purpose, when you really tune in to it, is to provide leadership to the organization you're speaking to. Even in light of your feelings, your purpose will get you out of bed and out the door to do what needs to be done.
A CONSCIOUS LIVING PRACTICE FOR TODAY – FEBRUARY 1
Think ahead to the next few days. Is there anything you have resistance to doing? If so, focus on it for a moment. Feel all your feelings about it, then get clear on your purpose for doing it. If your purpose feels sound, commit yourself to doing it and feeling all your feelings about it.
Purchase "A Year of Living Consciously" by clicking the cover below: