A CONSCIOUS LIVING PRACTICE FOR TODAY – FEBRUARY 11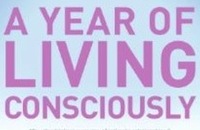 The great danger for most of us is not that our aim is too high and we miss it, but that it is too low and we reach it. — Michelangelo
THINKING BIG
I once sat in a coffee shop with a friend, counseling (and consoling) him. The friend was a million dollars in debt, he said, and he couldn't see any way out besides more hard work. But that was the same way of thinking that had gotten him where he was, and he was suspicious of doing more of the same. Did I have any suggestions? I asked him: What would be the biggest, most inspiring goal you could imagine? To invent something that would benefit humanity, he replied, his face lighting up in a big smile. Using table napkins, we generated a list of possible inventions in his area of expertise. Ten years after this conversation, his net worth is approaching fifty million dollars from just one of the ideas on that napkin, and he's working on a couple of others.
A CONSCIOUS LIVING PRACTICE FOR TODAY – FEBRUARY 11
Ask yourself: What grand goals would inspire me every minute of every day? What would I do with my life if I were playing full-out? If I were thinking big — AND EVEN BIGGER THAN THAT! — What dream would I commit to fulfilling?
Purchase "A Year of Living Consciously" by clicking the cover below: