A CONSCIOUS LIVING PRACTICE FOR TODAY – FEBRUARY 12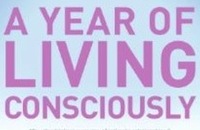 A stumble may prevent a fall.
— English proverb
YOUR JOURNEY OF CHANGE
Are you expecting to make your journey of change without mistakes? If you are, I rejoice, because you have already made your first mistake—in thinking that the path to a conscious heart and to conscious relationship is one without pitfalls. I rejoice because, of course, to err is human, and I am most comfortable with others when they are most human. But I also celebrate your mistake because it speaks of optimism, of a hopefulness that will carry you through the mistakes and obstacles bound to occur along your path.
A CONSCIOUS LIVING PRACTICE FOR TODAY – FEBRUARY 12
On February 8, you focused on some of the ways in which people described you as a child, and how those descriptions continue to influence your self-view even now.
Today, think about the first instances in which you recall being censored or censured for those same qualities by which others defined you so frequently.
Purchase "A Year of Living Consciously" by clicking the cover below: