A CONSCIOUS LIVING PRACTICE FOR TODAY – FEBRUARY 16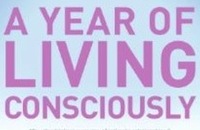 We were deliberately designed to learn by trial and error. We're brought up, unfortunately, to think that nobody should make mistakes. Most children are degeniused by the love and fear of their parents—that they might make a mistake. — Buckminster Fuller
THE POWER OF BEING WRONG MOST OF THE TIME
Buckminster Fuller was onced asked how he continued to be so creative throughout his life, registering patents for inventions up into his eighties. Without hesitation he replied that it was because he was willing to make more mistakes than anyone he'd ever met! The automatic pilot of an airplane is a remarkable device for at least two reasons: First, it gets you to your destination by being wrong most of the time. Second, it does so because it self-corrects thousands of times without losing its temper. It just notices it's wrong, corrects itself, then does the whole process over again a second or two later.
A CONSCIOUS LIVING PRACTICE FOR TODAY – FEBRUARY 16
Today, go out in search of mistakes. Rather than resist making mistakes, get willing to make as many as you make and learn from them cheerfully. Life is not about not making mistakes—it's about learning and making more so you can learn even more.
Purchase "A Year of Living Consciously" by clicking the cover below: